Whitestone Golf Club: Visual Treats, Huge Bunkers, Par 5s Tempt Golfers' Fate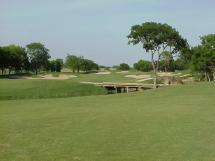 BENBROOK, TX -- On a knob above the 16th fairway at Whitestone Golf Club, one can find evidence of the first white settlement in Tarrant County and a rolling land that was once home to large herds of buffalo hunted by the Indian tribes of the Wichita, Caddo, Comanche and Lipan Apaches.
Today, the land is home to another fertile playing field -- a daily-fee golf course in the Dallas-Fort Worth Metroplex that is also part municipal.
The 7,117-yard, par-72 Jeff Brauer-designed layout is a public-private venture between the City of Benbrook and ClubCorp, which developed the hilly tree-covered property carved out of 150 acres of rocky terrain, resplendent in cacti, yucca and huge native oak trees. Water comes into play on seven holes and more than 60 strategically positioned bunkers are more aesthetic than punishing.
"I think Whitestone is a great setting - fully-wooded, traditional with lots of natural rolling land and creek features," said Brauer, former president of the American Society of Golf Course Architects. "The greens can get pretty fast in the summer so you need to know the right spots below the holes to be. I know some players have complained about greens in Texas being hard to hold in firm conditions, but I always tell them that's why the bump-and-run shot was invented."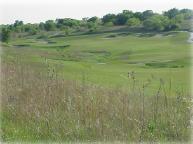 Whitestone might remind you of the Hill Country with its tree-lined sloping terrain and wide open spaces. White limestone rocks line the creek banks and bluebonnets and other Texas wildflowers are sprinkled throughout the layout. Heat-resistant TifEagle, an improved variety of Bermuda grass, makes the putting surfaces as slick as bentgrass.
Whitestone's strength comes in its dramatic visual bunkering and tough par-5 tests, most with risk-reward options.
Fort Worth area golfers can clue you in on the imagination needed to play Whitestone. Here's a sample of the thoughts: "Accuracy is a must. Par 5s are tough because there is much risk and little reward trying to get home in two. Bunkers are huge! Three of the four par 5s require lay-ups before reaching the greens. Pay attention to the GPS course guide. Picking the right club is imperative. You must think around this golf course. One of the best courses in the Metroplex. The layout is awesome. One will remember all 18 holes and every shot."
The signature hole is No. 11, a 203-yard downhill par 3, that sits in a natural amphitheater with a creek in front. The green is encircled by bunkers and the second shot is tough from any position.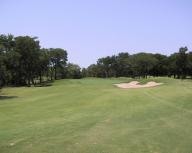 Options? You will find a myriad at holes No. 1, 9 and 10. The first requires an accurate tee shot on the 555-yarder and then the first decision. The creek crosses diagonally and the smart play is a short-iron lay-up.
A unique green with a deep dip in the center is awaiting on the ninth, a par-4 359-yard hole. You can hit an iron to a landing area right and short of the creek or you can try to hit straight for the green with a driver, clearing the creek, leaving you with a short pitch to the putting surface. Hitting the section of the green with the hole is imperative.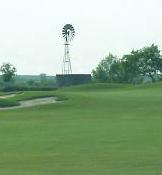 No. 10 is a 579-yard par-5 with trouble everywhere. The fairway slopes right and too far right will find trees galore. The creek dissects the fairway and bends right and then back left to the green with the creek coming into play again.
Whitestone is a must-play and has put Benbrook on the map for an excellent golf option in Fort Worth
Just minutes away is another municipal favorite, Pecan Valley, where a 2.1 million-dollar makeover has reopened as The River Course at Pecan Valley.
The layout has new greens, fairways and bunkers and winds around the Trinity River. Two new lakes strategically placed cements this course as a winner.
Benbrook also has a lighted par-3 course that is located on Winscott Road next to Benbrook Lake.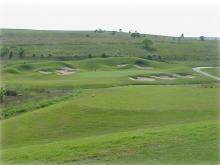 Where to Eat
McGregors Market Grille at Whitestone serves quarter pound burgers, chicken sandwiches, hot and cold sandwiches, salads and hot dogs. In addition, you can order garden wrapped sandwiches, hot panonni, Italian sandwiches, hot chicken wings and all kinds of pizza. For those seeking lunch while playing, place your order on the "ParView" system and it will be ready at the turn.
Just down the street from Whitestone is Riscky's Bar-B-Q, which celebrated its 75th anniversary in the Fort Worth area. Riscky's barbecue is hand-rubbed with "Riscky Dust" and slow smoked for hours. Jim Riscky designed his own smoke pits which operate 24 hours a day. (www.risckys.com).
Riscky's Bar-B-Q
Hwy 377 South
Benbrook, Texas 76126
Telephone: 817-249-3320
Benbrook History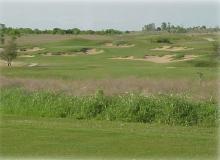 Benbrook is one of the oldest communities in Tarrant County, but as an incorporated city, it is one of the youngest. Prior to the arrival of Anglo settlers, large herds of buffalo and Indians roamed the Benbrook area. Archeologists estimate that the area has been inhabited for 11,000 years. Here, the confluence of the Clear Fork-Trinity River and Mary's Creek provided a watering place for tribes as they passed through the area on hunting expeditions.
Anglos originally settled the Benbrook area, part of the Peters' Colony established by the Republic of Texas, in the 1850s. W.S. Peters of Kentucky was granted a contract to attract 250 families per year by offering 320 acres free to family men and 160 acres to single immigrants, plus a free cabin, seed and musket balls.