There's plenty for golfers to like about The Wilderness in southeast Texas
LAKE JACKSON, Texas - Why let a good name go to waste? That was the question golf course architect Jeffrey Brauer must have asked himself.
Nearly eight years ago, Brauer was commissioned to carve a course out of the lush forest and wetlands south of Houston, just 10 miles off the upper Texas Gulf Coast. Brauer dubbed that course The Wilderness back in the mid-1990s when he was first approached about the project, but environmental and political objections halted work.
Brauer liked the name so much, however, that a couple years later, when he started work on a resort/casino course in Minnesota, the architect based out of Arlington, Texas, used it again - and The Wilderness at Fortune Bay was born.
But a funny thing happened on the way to finishing the Tower, Minn., job. Word came from Texas in the late '90s that the Lake Jackson project was a go again. So Brauer was back on the job, there, too. What the heck, Brauer must have thought, they're 1,300 miles apart. Two courses with the same name; it's not like that hasn't happened before.
"They're the 'Wilderni,' as I like to call them," Brauer said with a laugh when discussing the two courses that opened last year.
The naming story only illustrates the painstaking process The Wilderness - Southeast Texas version - went through as political and environmental concerns held up the project for nearly 30 years. There were bond issues, court rulings, federal government hurdles, protests from environmental groups and endless studies of the current and alternate sites for the city project. By most accounts, though, it was worth the wait.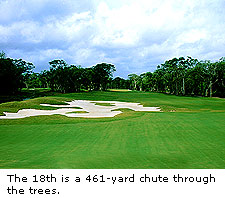 With barely a whisper of publicity, tee sheets have been full on the weekends as word has spread to Houston's 4.5 million population located about 50 miles to the northeast. On the day Travelgolf.com reviewed the course, we saw former Houston Rocket forward Otis Thorpe, who visited from his Houston-area home after hearing the same thing the rest of us did.
"Great greens, great layout," Thorpe said. "Really pretty."
All true.
That's the consensus of most everyone who's played the course. Superintendent David Myrick, formerly of The Falls in New Ulm, Texas, maintains some of the best Tif Eagle greens in southeast Texas. And the property, though flat at the time, was one of the most scenic Brauer has worked with in recent years.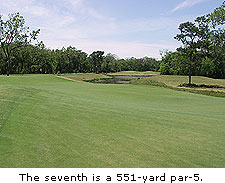 Brauer said that's one reason environmentalists, like the Sierra Club, raised so many objections.
"They didn't want us to cut down trees," Brauer said.
For the most part, Brauer didn't - and he routed the course through protected wetlands. He was able to give it a natural flow with tees and greens close together.
Unlike most new courses in the Lone Star State, The Wilderness' 7,106 yards is very walkable and you'll see a surprising number of people who do just that there.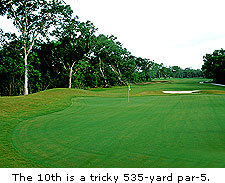 The Wilderness, which breaks up the area's slew of chemical plants and refineries, is really a tale of two nines. The front is more wide open and, on the first few holes, you can see some of the other fairways. It isn't uncommon to hit a stray tee shot only to have a chance to recover for par.
The back nine features holes that are more secluded. And with no homes on the course, it really does feel like you're in the middle of the wilderness somewhere.
Brauer knew one of his challenges was going to be how to get people to come out and play it, so he created a few holes that people would talk about. Among them is the 551-yard, par-5 seventh, which ends with a green that's 180 feet long. That's right, 60 yards, so you could hit it with any one of at least five clubs on your approach shot.
"My general theory has always been the farther you get from a major metropolitan area, the more you've got to give them something to talk about," Brauer said. "So even if you do three-putt it, the sun's going to rise tomorrow. I call that green a conversation piece and it seems to work because everybody mentions it."
"The sad part is an old guy threw his hip out trying to putt from one end to the other," Brauer joked.
Brauer, in fact, pays careful attention to par 5s. So many times, he said, there's "nothing to do on the second shot."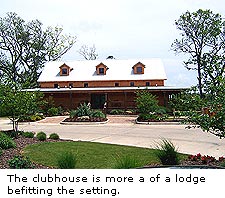 So on the second hole - a 560-yard par 5 protected by a lake - he provides multiple landing areas for lay-ups. The 10th, a 535-yard par 5, is a risk-reward hole that provides no bargain for those who want to lay up because of water to the right of the fairway. The 15th, with a semi-blind green, was inspired by a similar hole at Lahinch in Ireland.
Kit Thomson, general manager and head professional, said it's all about finding the right part of the fairway off the tee and leaving manageable putts on the course's large greens.
"One of the true keys to scoring well is in the placement of your second or third shots into our green complexes with our green elevation changes," Thomson said. "It is paramount to keep the players ball on the proper side of the hole."
The verdict
There's a lot to like about The Wilderness, except that if you're high handicapper, be prepared to part with your share of golf balls with all the wooded areas that come into play. Many of those areas are marked as hazards and many of those are protected, meaning you can't go in there to retrieve your golf ball.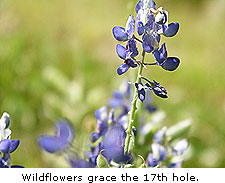 The solution is to hit it straighter and play the appropriate tees. To be fair, the fairways are plenty wide.
Every hole, it seems, is memorable with an interesting variety of par 3s, par 4s and the previously mentioned par 5s. Both nines feature long, tough par-4 finishing holes. The course isn't overly difficult, but it's no pushover.
Conditions are above average with greens that rival some of the best clubs in the area. And there are no houses on the course, which makes The Wilderness a great walk in the park.
The native areas are seeded with plants such pal meadow, which is native to low-lying areas in southern Brazoria County. You can also expect to see a healthy dose of hawks, raccoons, deer and snakes - watch out for those - providing another good reason to stay out of those wetlands.
Places to eat
The Local is a new hip place to eat and shop, say the folks at The Wilderness, with a variety of eateries that include such fare as Cuban sandwiches, roasted chicken and great breakfast tacos.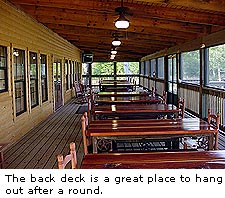 Smithhart's Downtown Grill has great burgers and homemade chicken-fried steak. El Toro is the place to go for Mexican food; steak enchiladas are a specialty.
The Local
118 That Way Street
Lake Jackson, TX
Phone: (979) 297-9300
Smithhart's Downtown Grill
104 That Way Street
Lake Jackson, TX
Phone: (979) 297-0082
El Toro
120 Commerce Street
Clute, TX
Phone: (979) 265-5361
Places to stay
Comfort Suites
296 Abner Jackson Parkway
Lake Jackson, TX
Phone: (979) 297-5545
Cherotel-Brazosport Hotel & Conference Center
925 Hwy 332 West
Lake Jackson, TX
Phone: (979) 297-1161
Fast fact
A bond issue approving the course passed by the slimmest of margins in 1997 - 50.7 to 49.3 percent - some 21 years after the idea for a nine-hole city course was first introduced.
May 17, 2005