Westin Stonebriar Resort: Dirt-Moving Fazio Sculpts New Prize In North Texas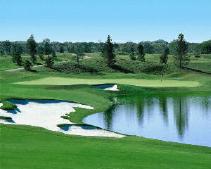 FRISCO, TX -- Tom Fazio likes to move dirt.
He must also enjoy seeing three-putts.
At Fazio's new Westin Stonebriar Resort course, the celebrated golf-course designer has finally made an entrance into North Texas golf, and besides moving 600,000 yards of earth, he laid out undulating putting surfaces that roll almost as quickly as a Titleist off the hood of a Dodge truck.
"I've been in the area nine years," said Stonebriar's head pro Craig Pullen, "and it's still funny looking when look out over the golf course. When I got here it was two big hayfields with basically no topography at all. It was flat as your kitchen table."
But it's the quick A-4 "heat resistant" bent grass that catches the attention of golfers.
"The greens are just unreal," Pullen said. "I haven't play a round yet without three-putting at least three times. I've always thought I was a good putter, but you just can't put your approach to the wrong side or be above the hole on these greens. Most of the people who have played it so far just say 'wow' but then say they love the greens. These are the same greens they put in at Colonial last year."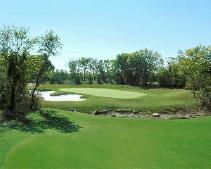 When Fazio finished Las Vegas' celebrated Shadow Creek in 1990 he had moved 28-million cubic yards on a tract that had six feet of elevation change. The result was 213 feet of vertical elevation. Then he added 21,000 trees.
The land changes at the Westin Stonebriar weren't quite as dramatic, but Fazio did add a 5-acre lake that you will skirt on Nos. 11 and 14.
"This lake land was lowered 12 feet to get it to the same level as the lake at the Stonebriar Country Club," said Pullen. "Then they went down another 22 feet for the lake."
Pullen notes Stonebriar Fazio is a player-friendly course with not many forced carries. One of those forced carries is the approach on No. 2, a par-4, 407-yard, dogleg right. After a tee shot over a wetland to an elevated landing area, the second shot must clear a stream. The green is guarded by a huge bunker on the left.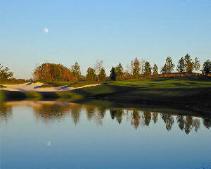 The five-acre lake comes in to play on No. 11, a 412-yard, par-4 dogleg right, and the 421-yard, par-4 No. 14. The 11th goes against the prevailing wind and requires a tee shot between framed bunkering. The green is long and narrow. On the 14th the lake guards the entire right side and once you reach the green you will find a tricky two-tiered surface 46 yards deep.
Another feature of Fazio's dirt-moving is that many fairways are mounded on the sides allowing some wayward shots to bounce back toward the fairway. However, Fazio's major intent was to give the golfer a feeling of seclusion -- that he's the only golfer on the course. And much of the time, because of the mounds, he can't see the parallel fairway or its cart path.
"I think the golf course still looks natural," said Pullen. "Even with all the dirt moving it still looks like it has always been here. I think lots of people have never thought of going to Frisco for a weekend getaway, but once they play the course they will want to."
The Westin Stonebriar Resort is 30 minutes from downtown Dallas and was designed as a business and resort getaway. It has a 24,000-square foot conference center with high-tech audio-visual capabilities. The Fazio course is a welcome amenity for the business meeting or for travel golfers.
"The fact that only hotel guests and Stonebriar Country Club members are able to play the course is what sets us apart from area public courses," said Rick Ueno, Westin Stonebriar Resort General Manager. "Minimal play on a course oftentimes means there is less slow play, and the course will stay in better condition."
Located in Legacy Park, The Westin Stonebriar Resort is sculpted on 322 acres, in a area experiencing a population explosion, on the northern end of the Dallas North Tollway.
Westin Stonebriar Resort Fazio Course
1549 Legacy Drive
Frisco, TX 75034
Telephone: 972-668-8000. Fax: 972-668-8100
Westin Stonebriar Resort: Every guest room and suite includes a two-line direct-dial telephone with fax and data ports as well as remote-control color cable television with in-room movies. Large bathrooms feature hair dryers and exclusive toiletries and each room includes an iron and ironing board for convenience and hypoallergenic pillows for added comfort. One- and two-bedroom suites feature spacious balconies with views of the Tom Fazio 18-hole championship golf course, and Westin's Guest Office® rooms offer amenities especially for business travelers, including a spacious work desk with speakerphone and task lighting, comfortable ergonomic chair and basic office supplies.
The resort features 301 luxurious rooms and suites overlooking the golf course and 200-foot lagoon-style pool. Amenities include a golf pro shop, Legacy Grill, Ernie's Bar, 24-room service, the poolside AquaBar Grill, 24,000 square feet of meeting space, health club and Face & Body Resort Spa.
Golf Packages: The Fazio, $259, includes one round of golf, full American breakfast for two and overnight accommodations in a deluxe guest room. Pro Golfer, $385, includes two rounds of golf, breakfast for two and overnight accommodations in a deluxe guest room. Tee Time, $385, includes one round of golf, breakfast for two, one treatment at the Face and Body Resort Spa and overnight accommodations in a deluxe guest room.
Next Door's Stonebriar Country Club: The Stonebriar Country Club at one time hosted the LPGA Tour's annual JC Penney Skins Game, which featured four of the top names in women's golf. Annika Sorenstam won it in 1998. The course measures 7,064 yards and is a Joe Finger/Ken Dye design. It is long and demanding and features several tough carries over water. The greens are large, mounded and extremely fast.
Some of Tom Fazio's Best: Barton Creek Fazio Foothills and Canyons, Austin, TX. Black Diamond Ranch, Lecanto, FL. Butler National, Oakbrook, IL, with uncle George Fazio. Estancia, Scottsdale, AZ. Galloway National, Galloway Township, NJ. GC of Oklahoma, Tulsa, OK. Jupiter Hills, Jupiter, FL - with uncle George Fazio. Old Overton, Birmingham, AL. Treetops-Fazio, Gaylord, MI. Shadow Creek, North Las Vegas, NV. Quarry-La Quinta, La Quinta, CA. Grayhawk Raptor, Scottsdale, AZ. Ventana-Canyon, Tucson, AZ. Ventana-Mountain, Tucson, AZ. Vintage Club-Desert, Indian Wells, CA. Wade Hampton, Cashiers, N.C. Wild Dunes-Links, Isle of Palms, S.C. World Woods-Pine Barrens and Rolling Oaks, Homossassa Springs, FL.
In 1995, Fazio received the highest recognition awarded by the Golf Course Superintendents Association of America, The Old Tom Morris Award. Fazio is one of only two architects who have received this honor.
Frisco History: If you would have visited here in the 1960s, Frisco was a town of 1,184 and the biggest thing in town was Friday night's watching the Fighting Frisco Coons Class AA football team. Today, the population is about 32,000 and with 69-square miles of city to expand to, the explosion could hit 350,000 folks in the future.
The Shawnee Trail, which ran from Austin to the Red River on the Oklahoma border, came through Frisco. That trail became Preston Trail, then Preston Road, and was used by wagon trains moving south bringing immigrants to Texas and by cattle drives going north from Austin. The town, Lebanon, then a thriving cattle town and now a part of Frisco, served as an assembly point for the cattle drives. South of this area in 1841, John Neely Bryan began the settlement of Dallas.
The Dallas North Tollway, which runs from downtown north, now extends all the way to Frisco, and has plans for further miles north.